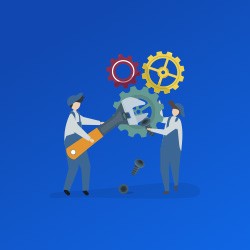 Preventive Maintenance System advantages:
Keeping a record of each machine with complete information about it, such as its purchasing date, production date, associated spare parts, meter readings, measurements, technical specifications, operating instructions, usage warnings, …etc.

A complete description of the maintenance tasks for each machine, including the waiting and operating time tasks, tools, and supplies necessary for each task, the spare parts associated with each task, the type of labor associated with each task, and an accurate description of each of the maintenance tasks in specific steps.

Periodic maintenance plans are required for each machine according to the instructions of the technical catalog for each machine.

Plans for the periodic inspection of each machine, including the inspection steps, the parts that need an inspection in each machine, the labor required to conduct the inspection, the tools, supplies, and spare parts necessary for the inspection, and the technical steps for the inspection.

Plan purchases of spare parts related to preventive maintenance with the creation of purchase requisitions for them automatically.

Recording meter readings and measurements for each machine to avoid sudden breakdowns.

Designing maintenance plans and periodic inspections for each approved machine based on time (weekly, monthly, and ...) or based on measurements readings (such as measuring temperature and measuring operating hours) or based on meter readings such as (production meter and ..).

The ability to deal with periodic maintenance requests and sudden maintenance requests (breakdowns).

The possibility of managing a queue for sudden and periodic maintenance requests allows the maintenance manager to approve or postpone or cancel any sudden or periodic maintenance requests.